Using water to rinse the mouth after brushing is one of the bad habits that is damaging your oral health. Unfortunately, many people are not aware of the dangers associated with this habit. In fact, most of us have come to agree that it is appropriate. The correct thing to do here is to spit out the foam from the toothpaste without water. Let's look at some reasons why you need to stop rinsing your mouth with water after brushing below.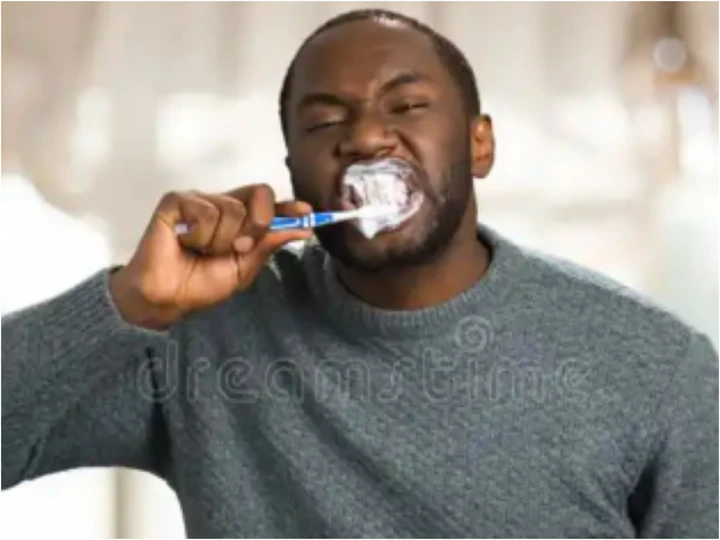 Photo credit: Dreams Time.
1. It causes tooth decay
When you rinse your mouth with water after brushing, it washes away the fluoride (the active ingredient in toothpaste that helps to prevent tooth decay). This reduces its effectiveness and makes your teeth prone to tooth decay. However, when you spit out the toothpaste without rinsing, a good amount of the fluoride will be left to do its work in preventing tooth decay and strengthening your enamel.
2. It wastes water
When you brush your teeth with water, you tend to leave the tap running throughout the process and this leads to water wastage. Turn off the tap while brushing and spit out the toothpaste when you are done with using water.
3. It keeps your teeth and mouth smelling fresh
Spitting out instead of rinsing with water also helps to keep your teeth and mouth smelling fresh and clean. Many people are battling with mouth odour today because of this brushing mistake. When you don't rinse your mouth with water after brushing, enough formula of the toothpaste will be left to give you an all-day fresh breath.
I hope this helps someone, especially those battling tooth decay and mouth odour. In addition, water scarcity is a serious problem in every society. We all need to take measures to conserve water.
Dear readers, do you spit out or rinse? Kindly share your routine with us.