Advertisement. Scroll to continue reading.
Nigerian singer, Harrison Tare Okiri, better known by his stage name Harrysong, has expressed shock after discovering the latest sex trend among the womenfolk.
Advertisement. Scroll to continue reading.
Harrysong took to his Instastory to share the latest update he received from a lady. According to him, the lady told him her fellow women now buy dogs to perform oral sex on them.
The lady disclosed that some women don't buy puppies as pets anymore, but as sex toys. Adding that they use the dogs to satisfy their sexual urges.
Advertisement. Scroll to continue reading.
Harrysong wrote,
"I just had one of the weirdest conversations with a lady about the new sex trend and pets with women now, that girls now buy poppies to give them head? Some are actually in a love/sex relationship with dogs? what is going on? Is this for real?"

See his post below,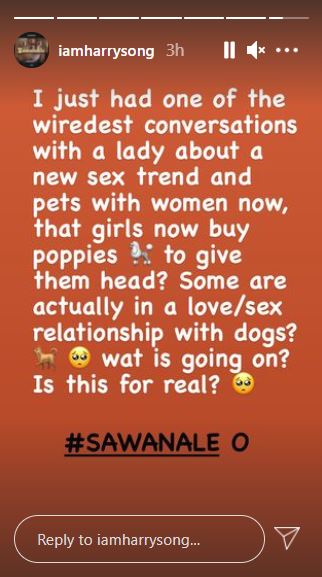 In other news, Harrysong recently advised young men against getting married to women who use social media excessively.
Harrysong, in a post he shared on his Instastories, stated that men who wants to live long and enjoy peace in their marriage should avoid women that are heavily invested on social media.
According to him, women who lack the discretion of what to post and what not to post on social media are not good wife material.