Nollywood actress Halima Abubakar, has declared that she does not want to be involved in the messy drama between Tonto Dikeh and her former lover, Prince Kpokpogri.
This is after Prince followed her on Social Media platform, Instagram.
Halima found the move unacceptable and called him out.
"You all should know I don't make friends. I don't ff people's husband. Why following me now? Man get off my page. You should know you can't be my friend. Don't try me. No BS from me. Hang it up".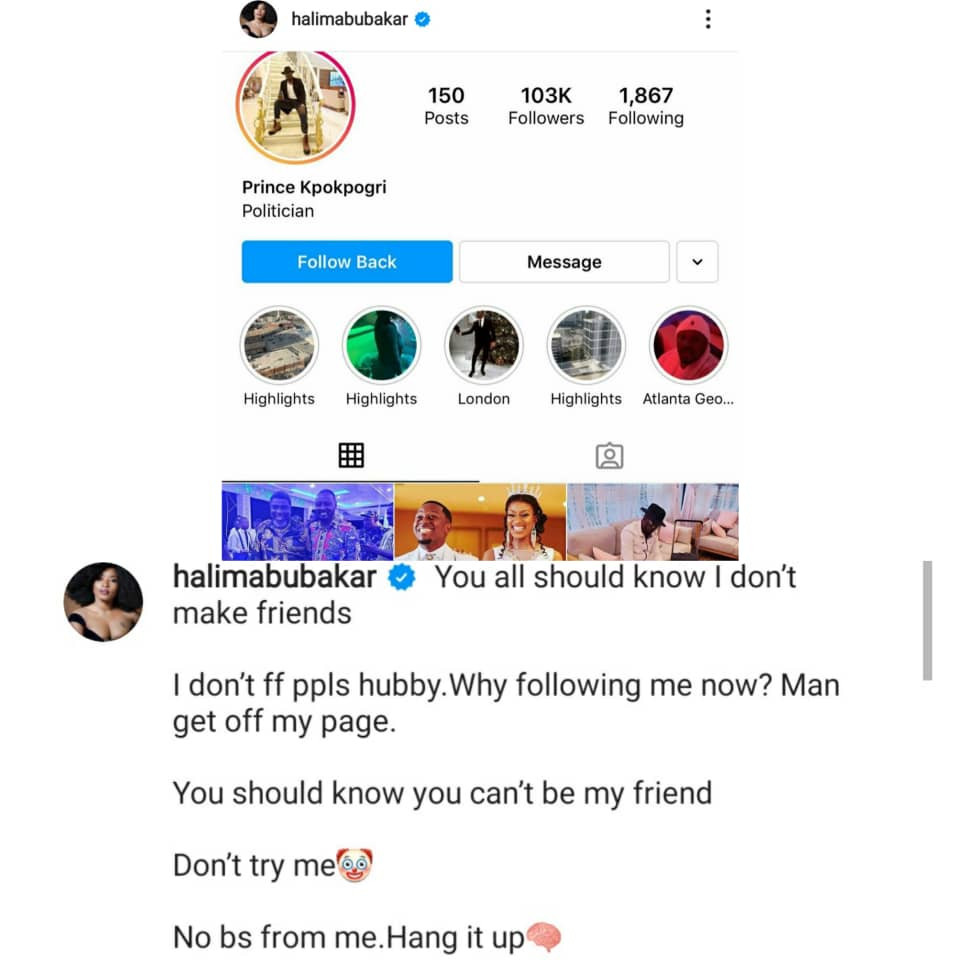 Read some social media reactions below:
Odiegwu: Why is this man busy making friends with Tonto's old friends, ex and enemies? What kind of a sissy did you get yourself involved with again, he's worse than Church. He's probably spilling everything Tonto told him in confidence and adding jara to sweet. Somebody's future husband, I pity your future wife. Old man baby, kpokpogari grow up
Adeshola Adekunle: correct babe ..Tonto dodged a bullet .this guy na kpokpo garri
Omalicha: Aaawwwchhhh!!! ?Og kpokpori, halima just kpokporied you sir. sorry. This one enter well. But watin you find go her page? Tomorrow now, you go find one nonsense talk. Mtcheeew!!!
Anonymous: Madam it is just a harmless follow just like any other person. Don't use it for public attention and shaming him in such a way. That he dated Tonto doesn't mean he can't live his life. Gush!! What's wrong with my fellow women? I thought we should be wiser than this.
Adolnedu: I am really enjoying this show of shame from people who most look up to as role models. In fact, this season of washing their dirty linens in public is much more entertaining than BBN. Even though I am not a fan of Bbn, I'm enjoying the dirty scandals very much. Well, all the happenings are food for thought for those who are married and those who wants to settle down to keep off their marital issues off the social media. If necessary, get rid of them except WhatsApp for receiving vital messages.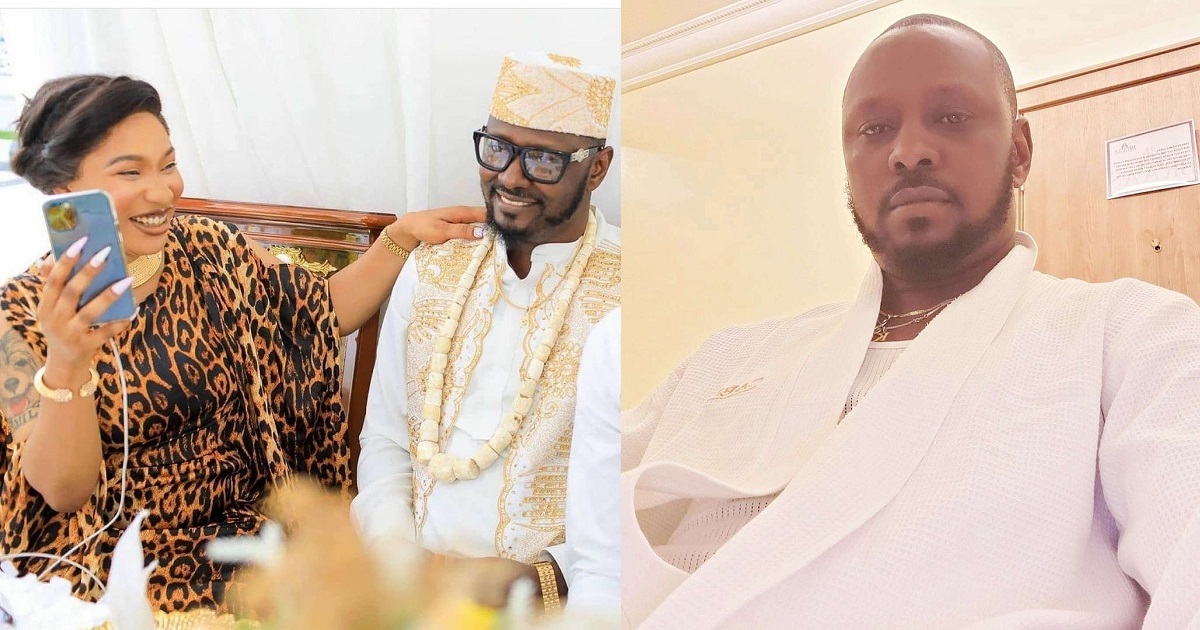 Gold Matchet: Bitter leaf…. I hope you know how to manage anger its people like you that Talibans are looking for…. ordinary follow on ig you are denial him what of if he ask you for a date??
Okay: Why following her now. And some men will come out here to say a lot of trash about Tonto. Please what exactly has she done wrong? Breaking up from a man who gossips around with her name. Come to think of the fact that she is even pregnant for him. You people should please leave this woman alone, she may have her own flaws just like everyone, but she is a good person. And for those men criticizing her, and those claiming to be woman and saying rubbish are worst/same as Tonto exes.