A lady, identified as Ashleigh Louise, has taken to Twitter to advise women not to date anyone earning an income lesser than theirs.
The famous moderator whose Twitter handle is @axhleighlouise, advised women to date men whose income and status is equal to theirs or better.
According to Ashleigh who was speaking from her personal experience, any woman who dates a man who is lesser than them will end up regretting her decision.
In the now-deleted tweet, Ashleigh wrote,
"I can not BELIVE I dated down. Ladies please learn from my mistake. Don't ever date down, don't ever date anyone who is earning less than you and not in a stable secure position in life. Date your equal or better. Never ever date down.
You'll regret it."
See below,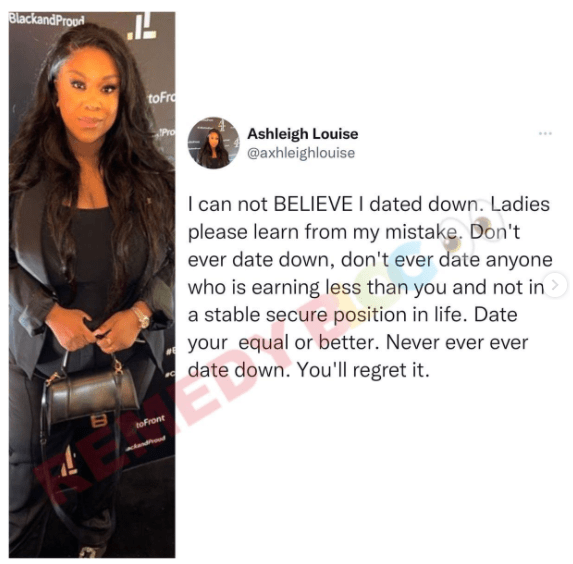 In other news, a Nigerian man has stirred reactions after he publicly admitted to cheating on his wife, who stayed and believed in him when he had nothing.
The man with the Twitter handle @Naijawatch, while replying to a tweet, narrated how his wife lifted him when he was broke. According to him, his amazing "Mrs" believed in him when no one else did.
He then added that's why he tells his side chicks that no matter how hard they try he can never leave his wife.
In his words,
"Thank God my Mrs did not have this kind of mindset. I was broke, had nothing and she still believed in me and she lifted me. And this is why I tell my side chicks "no matter how e sweet reach, I can never leave my wife".